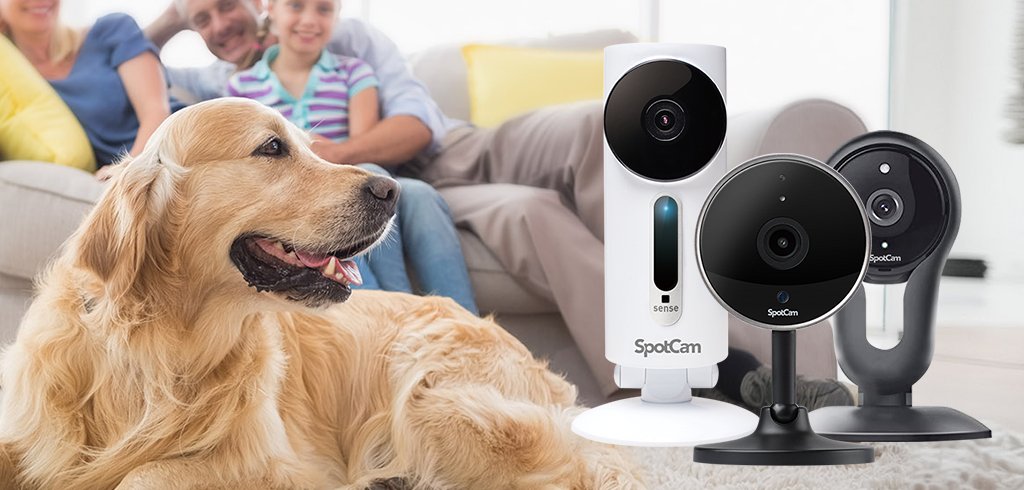 Encounter
SpotCam
SpotCam is a high-definition WiFi video camera with 2-way audio and night vision ability for your home, business, and most importantly, you.

Pan and tilt with
SpotCam HD Eva
You can pan and tilt SpotCam HD Eva easily with web browser or mobile/tablet app on the go never have to worry about missing the target anymore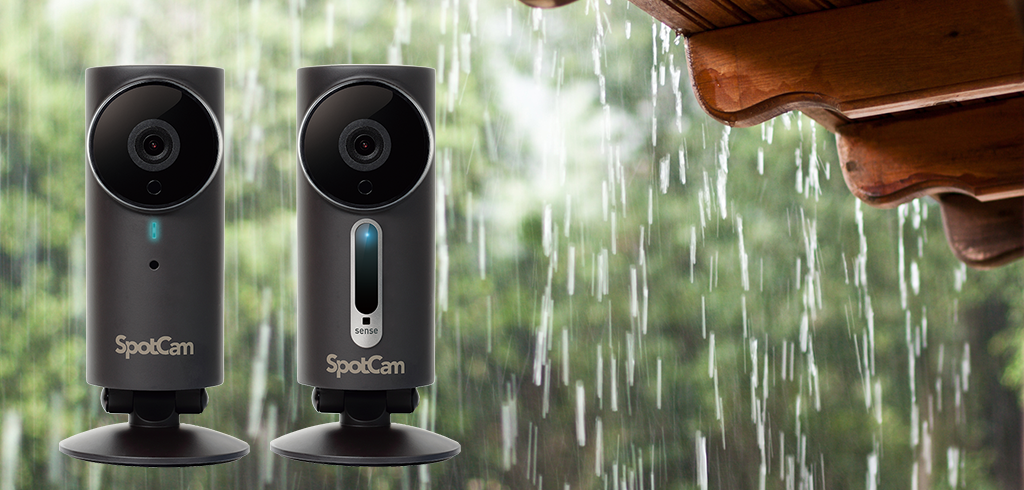 SpotCam Sense Pro
SpotCam FHD Pro
Include all features of SpotCam FHD and SpotCam Sense Plus IP65 water and dust proof for outdoor installation

Easy setup
Setup and ready to go in a matter of seconds.

Night vision
Automatic infrared LEDs to
see clearly even in the dark.

FHD video quality
See the details with FHD 1080P
video and a wide angle view.
Real-time alert
Stay aware by receiving active motion or audio event alert via
email or mobile APP from SpotCam.

WiFi Connectivity
Hassle-free connection to the internet, power cord is the only
thing you need to connect to
SpotCam.

Social networking
Share your SpotCam videos to people you like or even.

Two-way audio
Built-in microphone and speaker to listen and talk to the SpotCam.

Scheduling
Turn on and off SpotCam schedule.

Cross-platform Viewing
View video in mobile or PC device with network connectivity.

Bank-level security
Video streaming and storage are protected and transmitted securely with SSL encryption.
Camera Spec
Dimensions:
Bracket Ф 7.5cm(2.95")
Body Ф 4.8cm(1.89") × 14.8cm(5.83")
Weight: 236g(8.32oz)
Power Input: 12V1A
Video: Up to 1080P FHD(1920x1080) at 30 frame/sec
Streaming: H.264 encoding
Field of View: 130 degrees (diagonal)
Audio: Speaker and microphone
Night Vision: 12 High-power IR LEDs
Warranty: One-year parts
Operating Temperature:
0°C - 50°C, designed for indoor use
Tech Requirement
In Your House
- Computer, tablet, or smart phone (for setup)
- High Speed WiFi
To View (any of below)
- Web Browser, Internet Explorer 10+, Firefox 3+, Safari 3+, Chrome
- iPhone, iPad, iPod Touch, Android Phone, Android tablet
Package Checklist
Spotcam FHD
Wall mounting kit
3m (10 ft) power cable
12V1A power adapter
Quick Start Guide
Camera Spec
Dimensions:
Bracket Ф 7.5cm(2.95")
Body Ф 5.4cm(2.13") × 14.8cm(5.83")
Weight: 275g(9.7oz)
Power Input: 12V1A
Video: Up to 1080P FHD(1920x1080) at 30 frame/sec
Streaming: H.264 encoding
Field of View: 130 degrees (diagonal)
Audio: Speaker and microphone
Night Vision: 12 High-power IR LEDs
Protection level: IP65
Warranty: One-year parts
Operating Temperature:
-30°C - 50°C, designed for indoor/outdoor use
Tech Requirement
In Your House
- Computer, tablet, or smart phone (for setup)
- High Speed WiFi
To View (any of below)
- Web Browser, Internet Explorer 10+, Firefox 3+, Safari 3+, Chrome
- iPhone, iPad, iPod Touch, Android Phone, Android tablet
Package Checklist
SpotCam FHD Pro
Wall mounting kit
3m (10 ft) power cable
12V1A power adapter
Quick Start Guide
Camera Spec
Dimensions:
Bracket Ф 7.0cm(2.75")
Body Ф 8.0cm(3.14") × 13.9cm(5.47")
Weight: 318g(11.22oz)
Power Input: 12V1A
Video: Up to 720P HD(1280x720) at 30 frame/sec
Streaming: H.264 encoding
Field of View: 110 degrees (diagonal)
Horizontal Pan Range: 360 degrees (+180 ~ -180)
Vertical Tilt Range: 50 degree up, 20 degree down
Audio: Speaker and microphone
Night Vision: 18 High-power IR LEDs
Warranty: One-year parts
Operating Temperature:
0°C - 50°C, designed for indoor use
Tech Requirement
In Your House
- Computer, tablet, or smart phone (for setup)
- High Speed WiFi
To View (any of below)
- Web Browser, Internet Explorer 10+, Firefox 3+, Safari 3+, Chrome
- iPhone, iPad, iPod Touch, Android Phone, Android tablet
Package Checklist
SpotCam HD Eva
Wall mounting kit
3m (10 ft) power cable
12V1A power adapter
Quick Start Guide
Camera Spec
Dimensions:
Bracket Ф 7.5cm(2.95")
Body Ф 4.8cm(1.89") × 14.8cm(5.83")
Weight: 235g(8.28oz)
Power Input: 12V1A
Video: Up to 1080P FHD(1920x1080) at 30 frame/sec
Streaming: H.264 encoding
Field of View: 155 degrees (diagonal)
Audio: Speaker and microphone
Night Vision: 12 High-power IR LEDs
Internal Storage Space: 500 MB
Warranty: One-year parts
Operating Temperature:
0°C - 50°C, designed for indoor use
Smart Home Features
Humidity sensors
Temperature sensors
Illumination sensors
Built-in alert siren
Package Checklist
SpotCam Sense
Wall mounting kit
3m (10 ft) power cable
12V1A power adapter
Quick Start Guide
Tech Requirement
In Your House
- Computer, tablet, or smart phone (for setup)
- High Speed WiFi
To View (any of below)
- Web Browser, Internet Explorer 10+, Firefox 3+, Safari 3+, Chrome
iPhone, iPad, iPod Touch, Android Phone, Android tablet
Camera Spec
Dimensions:
Bracket Ф 7.5cm(2.95")
Body Ф 5.4cm(2.13") × 14.8cm(5.83")
Weight: 265g(9.34oz)
Power Input: 12V1A
Video: Up to 1080P FHD(1920x1080) at 30 frame/sec
Streaming: H.264 encoding
Field of View: 155 degrees (diagonal)
Audio: Speaker and microphone
Night Vision: 12 High-power IR LEDs
Internal Storage Space: 500 MB
Protection level: IP65
Warranty: One-year parts
Operating Temperature:
-30°C - 50°C, designed for indoor/outdoor use
Waterproof: IP65. Protected against splashing water
Smart Home Features
Humidity sensors
Temperature sensors
Illumination sensors
Built-in alert siren
Package Checklist
SpotCam Sense Pro
Wall mounting kit
3m (10 ft) power cable
12V1A power adapter
Quick Start Guide
Tech Requirement
In Your House
- Computer, tablet, or smart phone (for setup)
- High Speed WiFi
To View (any of below)
- Web Browser, Internet Explorer 10+, Firefox 3+, Safari 3+, Chrome
- iPhone, iPad, iPod Touch, Android Phone, Android tablet
Camera Spec
Dimensions:
Ø7.9cm x 12.3cm
Weight: 94g(with bracket)
Power Input: 5V/2A
Video: Up to FHD 1080P (1920 x 1080) at 30 frame/sec
Streaming: H.264 encoding
Field of View: 180 degrees (horizontal)
Audio: Speaker and microphone
Night Vision: 12 High-power IR LEDs
Warranty: One-year parts
Operating Temperature: 0°C - 40°C, designed for indoor use
Tech Requirement
In Your House
- Computer, tablet, or smart phone (for setup)
- High Speed WiFi
To View (any of below)
- Web Browser, Internet Explorer 10+, Firefox 3+, Safari 3+, Chrome
- iPhone, iPad, iPod Touch, Android Phone, Android tablet
Package Checklist
SpotCam Pano
Wall mounting kit
3m (10 ft) power cable
5V2A power adapter
Quick Start Guide
SpotCam Live
Free forever with your SpotCam
Watch real-time video from your PC, laptop, tablet, or smart phone by login to MySpotCam.com or mobile APP
SpotCam NVR
Optional storage plan for your SpotCam
Save and review stored video for up to 30 days after it happens and make your ownfilms by download video clips