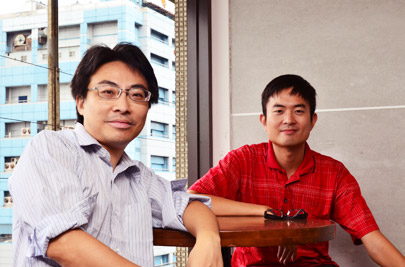 SpotCam founders
We create something different,
because we know better.
SpotCam is created by a group of young, passionate people and experienced specialist from CCTV industry. This team is bound together with a shared vision, to make CCTV fun, easy to use, and suitable for anyone with something to watch when they are away.
Our Story
With years of experience in CCTV industry, SpotCam team members once developed WiFi DVR and NAS type NVR for home and small business surveillance in the past in different companies, but soon realized the right solution for this market will have to shatter the traditional idea about CCTV products. With the development of several complementary technologies and popularity of mobile device, it became clear later that cloud based system combine with mobile device viewing will be the best and most friendly solution for home and small business.

Keep this in mind; SpotCam team was then formed by experts in video streaming, cloud server storage, and web apps in early 2013. It is never easy to build something different, even with the experience and expertise that SpotCam team members possess. Finally, after 12 months' development and testing, first SpotCam was launched in late 2013 with a design that has never been seen in the past on the market. With SpotCam's innovative camera design and easy to use interface, our channel partners soon see the potential of our solution and decide to distribute SpotCam in different countries, together with the help of on-line shopping, SpotCam products are now available in a dozen of countries include US, UK, Japan, Germany, and France.
Future and Vision
Look into the future, we know there will be different voice and different request for a better SpotCam solution, and we are ready to continuously improve our solution no matter in hardware and software. You can be sure that SpotCam team will never stop trying to build a perfect video viewing and sharing experience for you with our innovation design.